Raspberry Pi Keyboard – United Kingdom / Red/White
by Raspberry Pi
A slick and sturdy keyboard with built-in 3-port USB hub (to free up the USB ports on your Pi). It's the perfect keyboard for your Raspberry Pi!
Overview
Our official keyboard includes three host USB ports for connecting external devices, such as USB mice, USB drives, and other USB-controlled devices.
The product's micro USB port is for connection to the Raspberry Pi. Via the USB hub built into the keyboard, the Raspberry Pi controls, and provides power to, the three USB Type A ports

Connection diagram
This is the configuration we recommend for using your Raspberry Pi, official keyboard and hub, and official mouse together. The hub on the keyboard ensures easy access to USB drives, and the mouse's cable is tidy, while being long enough to allow you to use the mouse left- or right-handed.
Note: It is important that the power supply is connected to the Raspberry Pi and the keyboard is connected to the Raspberry Pi. If the power supply were connected to the keyboard, with the Raspberry Pi powered via the keyboard, then the keyboard would not operate correctly.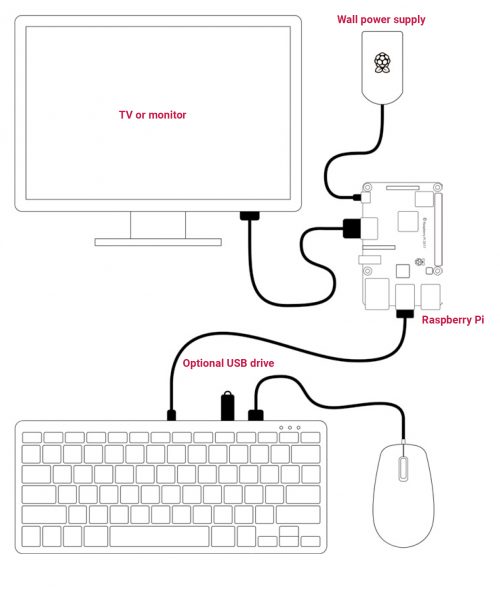 Download our guide to using the Raspberry Pi keyboard and hub
Specifications
The official Raspberry Pi keyboard and hub is a standard 79-key (78-key US) keyboard that includes an additional three USB 2.0 type A ports to power other peripherals. The keyboard is available in different language/country options.

79-key keyboard (78-key keyboard for US model)
Three USB 2.0 type A ports for powering other peripherals
Automatic keyboard language detection
USB type- A to micro USB type B cable included for connection to compatible computer
Ergonomic design for comfortable use
Compatible with all Raspberry Pi products
Layout templates:
In stock – and ready to ship!
Coming soon – sign up for a notification!
Out of stock – hopefully back soon!
Retired – no longer available.
Pre-order – will ship once available.
United Kingdom – Red/White
SC0166

United Kingdom – Black/Grey
SC0196

Norwegian – Red/White
SC0350

Norwegian – Black/Grey
SC0360

United States – Red/White
SC0167

United States – Black/Grey
SC0197

Portuguese – Red/White
SC0353

Portuguese – Black/Grey
SC0363

Danish – Red/White
SC0351

Danish – Black/Grey
SC0361

Swedish – Red/White
SC0352

Swedish – Black/Grey
SC0362

French – Red/White
SC0169

French – Black/Grey
SC0199

Spanish – Red/White
SC0171

Spanish – Black/Grey
SC0201

German – Red/White
SC0168

German – Black/Grey
SC0198

Italian – Red/White
SC0170

Italian – Black/Grey
SC0200

Japanese – Red/White
SC0354

Japanese – Black/Grey
SC0364
Show out of stock options
Matching mouse
Grab the matching mouse to go with it

Want to know when Raspberry Pi Keyboard is back in stock?
Your e-mail address will not be used for any other purpose.
Shop with confidence – we've been serving the hobbyist electronics, Maker, and retro gaming communities since 2012.
Satisfaction or refund guarantee
Worldwide shipping via mail or courier
50,000+ customer reviews
Approved Raspberry Pi Reseller
Secure website and payments